Travel and Lodging for ApacheCon Europe 2005
The Conference Venue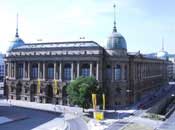 ApacheCon Europe 2005 takes place in the The Haus der Wirtschaft (Economic center). This conference center is a Wilhelminian style building with large modern conference rooms and spacious halls. The conference center is located in the center of Stuttgart at Willi-Bleicher-Str. 19 (see map). Further information about the conference venue is available in German on www.hausderwirtschaft.de.
Travelling to ApacheCon Europe 2005
By Plane
Stuttgart has an international airport (STR). It is served by 62 airlines, offering flights from 110 destinations in 33 countries. More information about the airport is available on www.stuttgart-airport.com
From Stuttgart airport, the conference location can be reached by public transportation within 30-35 minutes: Take the Railway (S-Bahn) S2 or S3 (timetable information, fare: 2.80 EUR). Exit the railway at station "Stadtmitte". From there it is a 7min walk to the conference center. Go north on Theodor-Heuss-Strasse (towards central station). Turn left into Willi-Bleicher-Strasse. The conference center is on the left. If you prefer to take a taxi from the airport, the fare is about 25 EUR.
By Train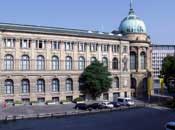 Take a train to Stuttgart central station. The central station is almost walking distance to the conference center (12min, approx. 1km). You can also take the Subway (U-Bahn) U6 to "Schlossplatz" (timetable information, fare: 1.20 EUR). Exit at the next stop "Schlossplatz". From there it is a 5min walk to the conference center. Go straight ahead on Bolzstrasse, then turn to the right into Friedrichstrasse. Go straight ahead on Friedrichstraße and leave Friedrichstrasse for Theodor-Heuss-Strasse. Leave the Theodor-Heuss-Strasse and turn right into Willi-Bleicher-Strasse. The conference center is on the left.
By Car
A8 from Munich: exit Degerloch, via B27 direction "Stadtmitte"
A8 from Karlsruhe: exit motorway intersection Stuttgart, via B14 direction "Stadtmitte"
A8 from Heilbronn: exit Zuffenhausen, via B10 and B27 direction "Stadtmitte"
The best parking possibility is the multi-story covered car park "Hofdienergarage" opposite of the conference center. It is open 24 hours. Please use the access on "Schellingstrasse". Another covered car park close to the conference center is "Friedrichsbau".
Hotel Reservations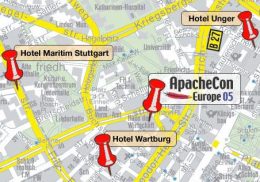 There are lots of hotels in the Stuttgart city center. Below is is a list of hotels within walking distance of the conference center together with their room rates. See the map for information about the hotel location. You can book any of these hotels via our hotel reservation service. The preferred ApacheCon hotel is the Maritim Hotel Stuttgart.
Hotel Maritim Stuttgart (Single 119 EUR, Double 149 EUR)
Hotel Unger (Single 78 EUR, Double 107 EUR)
Hotel Wartburg (Single 82 EUR)
Kronen Hotel (Single 85 EUR)
Hotel Rieker am Hauptbahnhof (Single 90 EUR)
Hotel Royal (Single 98 EUR, Double 115 EUR)
Hotel am Schlossgarten (Single 138 EUR, Double 151 EUR)
Hotel Steigenberger Graf Zeppelin (Single 169 EUR, Double 179 EUR)
Information about Stuttgart
Stuttgart is the economic, cultural, sporting and social hub of a region in the heart of Europe with more than 2.5 million inhabitants. Even as visitors come in to land at Stuttgart International Airport, they will be impressed by a fascinating landscape consisting of mountains, woods, vineyards, gardens, meadows and fields. Woods account for almost a quarter of the entire city area. The state capital of Baden-Württemberg is a cultural attraction that extends beyond regional borders. The State Art Gallery, Bach Academy, Opera House and Ballet Company as well as the musical hall with the world hit "Phantom of the Opera", the Theatre House and Friedrichsbau Varieté are symbols of the cultural diversity of the city of Stuttgart. Stuttgart and the surrounding region offer something for everyone the whole year round. It's worth making a trip because there is always something to see and do in Southern Germany. More Information about Stuttgart is available on www.stuttgart-tourist.de
The city map images are &copy Landeshauptstadt Stuttgart, Stadtmessungsamt 2005. See also the full Stuttgart city map web site. The Stuttgart airport image is &copy Flughafen Stuttgart GmbH.