Travel and Lodging for ApacheCon US 2003
Conference Hotel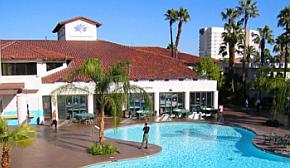 ApacheCon 2003 will be held at the convention center of the Alexis Park Resort in Las Vegas.
375 East Harmon Avenue
Las Vegas Nevada 89109
The hotel is located just East of the Las Vegas Strip and only half a mile away from the airport. It has a full-service spa on the premises, three swimming pools, as well as a well-equipped fitness facility.
The special discounted ApacheCon group rate is $99.00 USD (Monarch suite with single or double occupancy) and is available three days prior, during, and three days after the conference. Monarch suites have a separate bedroom, plus a large bathroom, and a living area with a work desk. All rooms have high-speed internet access. Additionally, wireless network services will be provided in the convention center area.
To make reservations please contact the hotel directly and make sure you mention ApacheCon to secure the special discounted rate. Please note that the special rate is not available via Alexis Park's web site.
Please dial:
(800) 582-2228 (within the Continental US, toll free)
+1 (702) 796-3300 (outside the Continental US)
Should you have any problems with your hotel registration do not hesitate to contact the ApacheCon planners.
Travel Information
For Airline and other travel assistance, please contact the ApacheCon travel agency:
Arlene Fink
EnRoute Travel
15221 Sunset Blvd.
Pacific Palisades
California 90272
Phone: +1 (310) 459-9955
Fax: +1 (310) 459-5494